Brazilian's most traded stock ETF in the US, EWZ soared 46.5% in the same 6 months: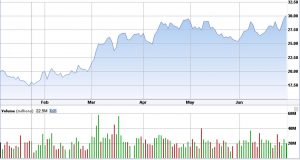 In the beginning of the year, the perspective for the Brazilian market was not good with the country in recession and inflation sky rocketing. However, in the middle of February, the inflection started fueled by a global recover in commodities prices and an improvement in the expectations for the economic policies, which became known as the impeachment rally.
Besides, the downside event of the semester, the Brexit, was followed by an unexpected help which were the speculations that central banks all over the world will stimulate their economies to face market volatility. On Friday, the president of England's central bank, Mark Carney, said that the growth in the UK will slow down in the next months and additional interest rate cuts and other measures of monetary ease will be necessary.
Sure, Brazil is not out of the woods yet and the new government still has lots to do to recover the economy. However, the better economic climate has started to translate into improvements in the confidence: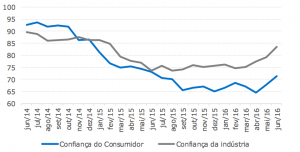 Besides the more favorable political environment, what is also helping in this confidence growth is the fact that some economic indicators are improving, albeit still very bad: IBC-Br, Industry and Services.