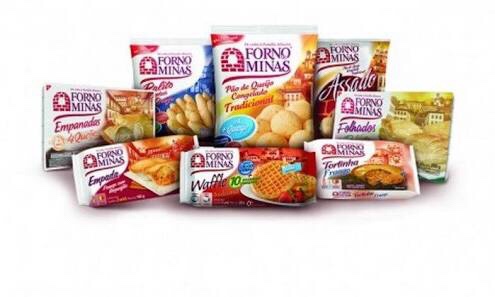 McCain do Brasil Alimentos, a subsidiary of Canadian-based McCain, maker of pre-fried and frozen potatoes, has entered into an agreement to acquire a 49% stake in Forno de Minas Alimentos. The value of the acquisition was kept confidential by the parties.
Helder Mendonça, president of Forno de Minas, said the negotiations lasted about ten months. "Last year, we looked for alternatives to the Bozano fund, which had a 29.3% stake in Forno de Minas. The objective was to attract a financial partner, but the opportunity came with McCain", he said.
According to the executive, the two companies realized that there were many affinities and saw possibilities of synergy in Brazil and abroad. "McCain is going to help us in the process of globalizing cheese bread sales", said Mendonça. "In Brazil, I see synergies mainly in the commercial area".
McCain operates in Brazil with the sale of frozen pre-fried potatoes, which are produced and imported from its factories located in Argentina, France, the Netherlands and the United States.
"This agreement presents a great opportunity for both companies, which have very strong brands in the Brazilian market. We trust in the success story of Forno de Minas and in the management of the Mendonça family to continue leading the company", said Aluizio Periquito Neto, General Manager of McCain Brazil.
Under the agreement, McCain, through its Brazilian subsidiary, will acquire 29.3% of the shares belonging to the Bozano Group and a portion of the shares that are in the hands of the founders of Forno de Minas – Helder Couto de Mendonça, Maria Dalva Couto Mendonça, Hélida Stael Mendonça and Vicente Camiloti – totaling 49% of the capital.
"With this transaction, we are revitalizing Forno de Minas and we will be able to accelerate growth projects in Brazil", said Mendonça. Without citing figures, the executive said the company intends to invest in the expansion of factories in Conceição do Pará and Contagem (MG) to develop product lines.
In the accumulated period from January to September 2017, the company recorded a net loss of R$ 18.5 million (aprox. US$ 6 million). Net revenue was R$ 232.6 million.
Forno de Minas is a family business founded in 1990. In 1999, the control was sold to the American multinational General Mills. In 2009, the founding family repurchased the business. In 2010, Forno de Minas received an investment from the Mercatto investment fund, which assumed a 29% interest. In 2013, the Bozano Group acquired Mercatto, becoming a shareholder of Forno de Minas.
In January of this year, Forno de Minas decided to cancel its registration as a publicly traded company and close its capital.
Read more about the Brazilian Food Market