Cosan's most known business is indeed Ethanol and Sugar production. That's how the company started and they are still the largest producer in Brazil and a major player worldwide. However, due to volatility in these commodities' prices, Cosan's management has been diversifying its activities in the last few years and now half of it's EBITDA comes from other businesses.
Cosan today operates on production, transportation and distribution of renewable energy sources. They prospect land, grow and process sugarcane, distribute fuels, transport and sell sugar on the domestic and international markets and produce and sells lubrificants. It is the world's first vertically integrated bioenergy company. The below image, shows the different parts of the company: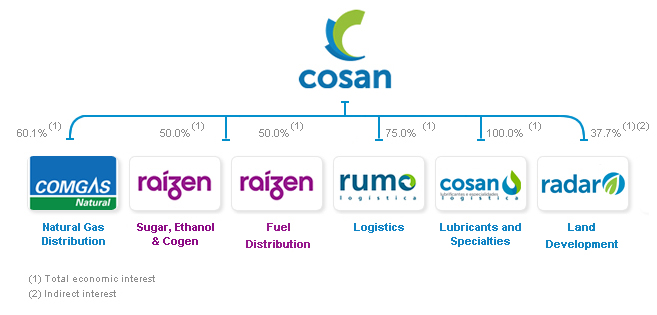 In the fiscal year ending in March, 31st, 2013, the company reported only 20% of its EBITDA from Raízen Combustíveis, the traditional Sugar and Ethanol business. Revenue and EBITDA were distributed as follows: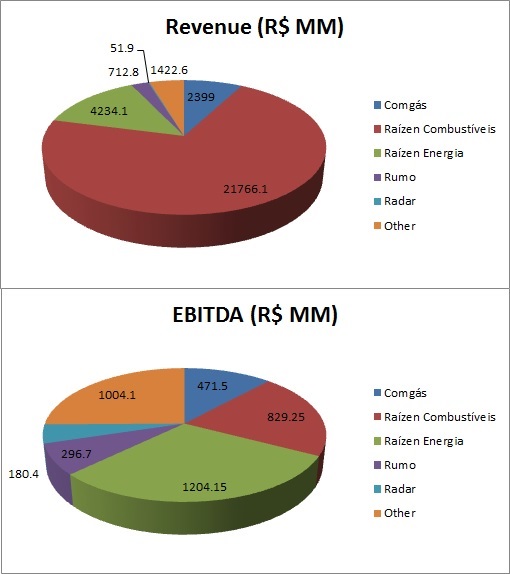 Other Business above is composed of manufacturing and distribution activities for the Mobil and Comma brands, base oil distribution and the corporate structure of Cosan, except Raízen.
Exchange rate was around BRL 2 for US$ 1 at the end of FY2013.
Cosan Ltd.
The diversified and vertical business model adopted by Cosan provides a much more stable operating environment. Furthermore, Cosan operates with renewable energy and presentes several areas for growth in the next decade or two. Overall, the company deserves a 4-star EBI Rating.